01 Aug

Life After Tragic Loss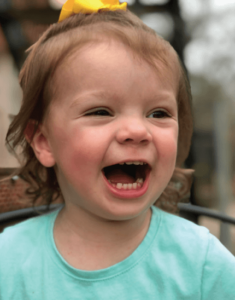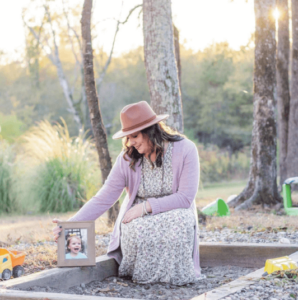 By Kristen Worrell, Mother of Emy (05/30/17 – 02/17/19)
October 7, 2016, I found out I was pregnant with Emersyn ("Emy") Grace. I spent my entire pregnancy praying for her, wondering what she would look like, shopping for her, planning and decorating her nursery, and anticipating her arrival. On May 30, 2017, Emy was born, and I discovered a love I never knew existed. Becoming a mother was the best thing that ever happened to me. From the moment I laid eyes on Emy, I knew she was "My Sunshine."
The fall of 2018 I was preparing for the new year never knowing what really lay ahead. On December 31, 2018, my mom was diagnosed with a very rare cancer of the tailbone, called Chordoma. It is literally a 1:1,000,000 and belongs to the sarcoma family. January 2019 was full of many doctors' appointments and treatment plans for my mom. Our home state of Arkansas did not have the radiation needed to treat her cancer. Therefore, my mom, Emy, and I all temporarily moved to Shreveport, La., where she underwent twelve weeks of daily proton beam radiation.
Just five weeks into my mom's cancer treatment, the morning of February 17, 2019, at the age of 20 months old, I found my beautiful and completely healthy baby girl had died in her sleep. I immediately went into shock, screaming and crying. As a registered nurse for nine years at that time, I knew she was gone, but I could not comprehend it. All I wanted was to wake up from the nightmare. Just twelve hours before, she was full of life and joy. All the firsts, gone, and now left with the wonders of the memories we would have made together and what her future would have looked like.
Emy knew who Jesus was and she prayed to him often. She loved everyone and it radiated the love she carried in her heart for others. She rarely met a stranger, and she had a vivacious personality. She smiled with her whole face, and it would light up the room in an instant. She had such a contagious laugh that often ended with a snort. Her hugs and snuggles were the best, and she loved to give "shoogies" (kisses). As part of our nightly routine, I would hum or sing "You Are My Sunshine" while rocking her.
Emy loved life, and she lived it abundantly. Every day was a new adventure. She loved the outdoors, playing in her sandbox, swinging, riding the four-wheeler, helping her mammy water the flowers, splashing in the creek, playing at playgrounds, sliding, and anything that pertained to being outside. She loved her farm animals, and one of her favorite pets was her dog Hank. They both adored each other, and he was so gentle with her. They would lie together and watch TV. Emy loved to eat and would often steal bites of food from you or ask for "more." As her mommy, and one who loves to shop, of course, Emy did too! She had more clothes and shoes than you could imagine. She loved being a helper whether it was with laundry, sweeping, cleaning, paying bills, or helping her friends and family. She knew her colors, and her favorites were pink, purple, and yellow. She loved to play with Play-Doh, put on make-up and lip gloss, run, and jump. Before she could walk, she loved stroller rides on the farm. She often hummed during the stroller rides. She could count to ten and spell her name, "E-M-Y." She loved for us to read to her. We took her to church, and she loved her class of friends. She accomplished so much in her short time here. Emy's life changed me; her death rearranged me; and now my purpose is to walk by faith and share our story. Within the first few days of Emy passing away, I can remember questioning God. Yet, within those same words I would utter through tears, "If one person comes to know the Lord through this tragedy, this is my why."
I started a non-profit foundation in Emy's memory called the Emersyn Grace Rima Foundation. I had never heard of SUDC, and I had been a nurse for nine years at the time of her death. My why covers a multitude of reasons I started the foundation and to far greater depths than words can explain, but, my main reason is to give honor and glory to my Lord and Savior because without His promise of eternity in heaven with Him and my girl, I would not be where I am today. I would have no purpose. Yet, he has me here for a reason and someone needs to hear our story of redemption and healing. That it is still possible to have a heart full of faith, hope, and love in Him, all while grieving what life should have been and trying to pick up the broken pieces. Grief is a process where overtime becomes intertwined with your reality, and you learn how to embrace each day with grit anchored in grace. You learn to muster up the courage to get out of bed and put one foot in front of the other and face the world.
Although I believe it was Emy's appointed time to go home to heaven, and I have peace in that, it does not stop my mind from wondering what caused this. I have taken my grief journey and focused on honoring and glorifying the Lord while also advocating for more research into the cause and prevention of these "unexplained" deaths. We must be the voice for our children gone too soon. We must stop this category of death from happening to anyone else. We must make this topic a priority of conversation so others can learn more and come alongside us to raise more awareness. I will never stop honoring Emy's memory. I will let the love of Jesus shine in and through me to be the light in the darkness for others. Through our foundation, one of the programs we have initiated is Lunch & Learns. We go to pediatric clinics and share about SUDC by providing education, statistics, facts, and resources from the SUDC Foundation to help raise awareness. I have had several opportunities to speak to groups of professionals about SUDC, the SUDC Foundation, and our Foundation. We are expanding our efforts to reach a larger population as well. I have found that sharing my story and talking about Emy helps me keep her memory alive. Raising awareness, educating, advocating, and sharing have given me purpose after such a tragic loss in my life because one child gone is one child too many, and my precious sunshine was one of them. Mommy loves and misses you so much Emersyn Grace!
"You are my sunshine, my only sunshine.
You make me happy when skies are gray.
You'll never know dear, how much I love you.
Please don't take my sunshine away."