01 Dec

P.S. I Love You: Parenting Paxton and Palmer in a Pandemic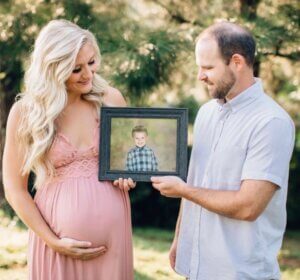 Paxton was born on June 10, 2017 and from the moment he took his first breath, he took ours away. We never knew a love so deeply could exist until he entered the world.
Paxton was our first baby. We felt like we had no idea what we were doing but Paxton showed us exactly what needed to be done. He was also very strong-willed, a trait his Daddy says he got from his Mommy. No one could stop him once he set his mind to something. 
Paxton was a strong little boy. He was active from the moment he arrived in the world and proved that by rolling over right before he turned two months old! He spent hours at the gym with Mommy.
Paxton loved all things "boy" – tractors, fire trucks, large machinery, dinosaurs and the color yellow. He gave the best dinosaur "rawr" and loved to "drive." He loved waiting for Dad to get home each day so that he could meet him at the end of the driveway and "drive" the rest of the way up to the house. He was always so proud of himself. 
Paxton was magnetic. There was just something special about him that made everyone around him feel a deep, powerful love that was truly Heaven sent. He was a social butterfly and loved being the center of attention. He hooked everyone in with his big smile and beautiful blue eyes. You had a friend for life in Paxton. He loved encouraging others with his favorite phrase, "Good job!" with his right index finger sticking up in the air. It was amazing how one little boy could make you feel like you were ten feet tall.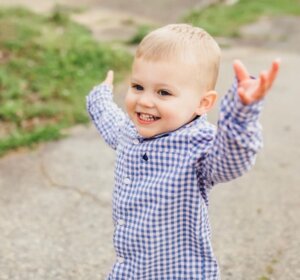 Paxton sought out adventure in anything he did. He knew only one speed – full speed. From the moment he woke up and ate his favorite breakfast, "faffles," he did not slow down the rest of the day. You could hear his cackle rooms away as you delighted in how much he loved life. He loved discovering what life had to offer him and studied everything very carefully trying to figure out how it worked and how he could be a part of it or in control of it. Seeing the world through his eyes was something Daddy and Mommy treasured so very much. He found fascination in the smallest ant or the tallest tree. Everything was a wonder to him and it reminded us daily of the beauty of a childlike faith. We felt blessed each day that the Lord chose us to be his parents. What an incredible gift that was. He was our greatest blessing and accomplishment.
On the night of October 6th, 2019, we laid our smiling, loving, happy son down for bed and said goodnight. We had no idea it would be for the last time. We said our last prayer together and went to sleep for the last time as a complete family. 
The morning of October 7th would bring the worst day of our lives. When went to wake him up for school, we discovered that our little boy was gone. Losing Paxton shattered our lives. Just like trying to glue broken pieces of glass back together once they are shattered, it never will be the same. 
Like many who have gone before us, the pain and difficulties we have faced in the first year since losing our son have been indescribable. Navigating through it during a global pandemic has added to our struggles and anxiety.
Child loss is always a very isolating experience. But the COVID-19 pandemic has exacerbated those feelings. We have had to isolate ourselves from family and friends who we rely on to help us through our grief. We have not been able to see our counselor and virtual therapy just doesn't seem to be as helpful as in-person sessions. We often experience new and changing emotions, and we have often felt like we don't know how to navigate them during such isolation. 
We also had to reschedule and eventually cancel Paxton's Pac Man Party 5K, the event we planned in his memory. Using the nickname we had for him, we wanted to raise money and awareness of SUDC through the event. Canceling the event made us feel defeated, heartbroken and as if we didn't do enough to remember and honor him due to circumstances out of our control.  
In 2020, we were also expecting our second child. We welcomed our daughter Palmer Hope, and made Paxton a big brother. We believe Paxton handpicked her just for our family. Along with this blessing, comes the anxiety of parenting after losing a child in the unique circumstances of a global pandemic and the continued isolation it brings.
Navigating our first year without our son during a pandemic has been incredibly difficult and painful, but we are grateful for our connections with the SUDC Foundation which taught us to cope and reduce our isolation in so many ways. On the days that we feel alone, the Foundation is there to remind us that we are not alone and there are other families who share in this pain and the harsh realities that it brings. There are so many outlets that are available at our fingertips – all at no cost to us.  The Foundation has been there to help us on a medical level as we try and figure out what happened to our son. The Foundation has been there on an emotional level connecting us with families across the world who understand this journey and this pain. When it feels like the only thing the outside world can focus on is the pandemic, we know we have the SUDC community to lend an open heart and a listening ear for us to grieve Paxton.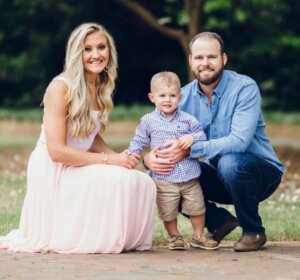 While we know we will never be complete again without Paxton here, we have faith that he will show up in Palmer and through her in so many ways. Paxton continues to change lives and we can't wait for the day when we reach Heaven's gates and have him run into our arms and say, with his finger pointed in the air, "Good job! You made it!" 
Until then, we will continue reciting your prayer each night to your sister as we honor and remember you:
"The Lord bless you, the Lord keep you, the Lord make his face on you and be gracious to you; the Lord turn His face toward you and give you peace." Numbers 6:24-26
Always and forever P(axton). S(haw)., I LOVE YOU.
Lovingly written by Natalie and Greg Shaw.