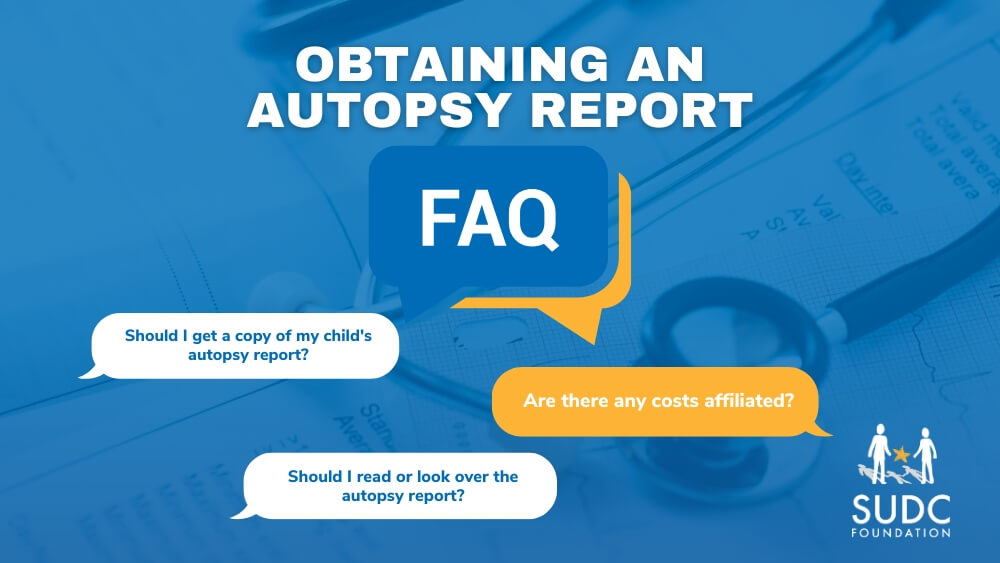 11 Apr
Requesting a Copy of an Autopsy Report
By Heather Maher, M.S.F.S, SUDC Foundation Family Advocate
Losing a child is one of the most heartbreaking experiences a parent can go through. When the cause of death is unknown, an autopsy may be performed to help provide answers. While receiving the results of an autopsy can be helpful in gaining closure and understanding, it can also be a difficult and emotional process. In this article, we will discuss some common questions parents may have about obtaining and reviewing their child's autopsy report.
Should I get a copy of my child's autopsy report?
Yes. It is a good idea to request a copy of your child's autopsy report. Even if you have no intention of reviewing it, we suggest you obtain a copy to keep with your important records. You can also request to have the report sent to someone else on your behalf or even the SUDC Foundation.
Will my child's autopsy report have any pictures or diagrams?
Possibly. Yes, some reports do include pictures and/or anatomical diagrams. We suggest that if you chose to request a copy of the report that you either ask for these images not to be included or have someone else receive the report on your behalf.
Will the final autopsy report be sent to me once the investigation is completed?
No, most ME/C offices have a formal request process in order to receive a copy of the final autopsy report. Usually, these requests need to be made in writing but sometimes can be made over the phone. The SUDC Foundation can help you make this request.
Should I read or look over the autopsy report?
We don't recommend it. Remember, this report is a medical document, and they are often very clinical and sterile. We don't recommend that parents or close family members initially read the report by themselves. We suggest that you have someone else review the report with you like a trusted primary care doctor or your pediatrician if you feel comfortable. In some ME/C offices, you can request that the investigating examiner review the report with you. We also have staff at the foundation that can review the report with you as well.
How long will it take me to receive the report after my child's investigation is closed?
The time in which you receive your copy of the report once the case is closed can vary greatly between offices ranging from a few weeks to several months. It is best to ask your particular office what their specific timeframe is to receive your report copy.
Are there any costs affiliated with obtaining my child's autopsy report?
The cost of obtaining an autopsy report for a child varies depending on the jurisdiction and/or the state in which the autopsy was performed. In some cases, reports are provided to family members or legal next of kin for free. However, in some cases, offices will charge a fee to obtain an autopsy report.
If you need help obtaining a copy of your autopsy report, the SUDC Foundation can help you navigate this process.
Facing the results of an autopsy can be an extremely difficult and emotional experience. However, obtaining a copy of the report can provide closure and understanding. The report can provide valuable information about the cause of death, which can help families come to terms with their loss and better understand what happened. It can also help to ease the anxiety that comes with the unknown, allowing families to start the process of healing.
It's important to remember that families do not have to go through the process of obtaining an autopsy report alone. The SUDC Foundation can also provide families with guidance on how to obtain a copy of the autopsy report and navigate the process of reviewing the results. By reaching out to the SUDC Foundation, families can find the support and resources they need to help them through the difficult process.
If you have any additional questions, please reach out to: [email protected].