06 Dec

Sharing Gabriella's Light and Joy
By Melissa Pompa & Lily Crandall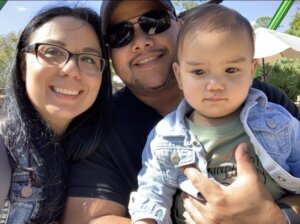 "To know Gabriella was to know pure happiness; to love every moment of life," says Melissa Pompa, Gabriella's mother. Gabriella Pompa was born on January 10, 2019, at West Boca Medical Center in Boca Raton, Florida. She was a healthy, beautiful baby who loved to dance and sing along to Sesame Street Songs, read books, and make anyone smile with just a wave.
Gabriella suddenly passed away at only 16 months on May 10, 2020, to an unknown cause. Her parents Melissa and Erick are still fighting to find answers, to know what happened to their precious girl. About a year after Gabriella's passing, Melissa trained to be an SUDC Foundation Ambassador. "It's important for me to be involved with the Ambassador Program because few people have heard of SUDC or know what it is," Melissa says, "I spread awareness by speaking  with families and doctors about Gabriella and what happened to her, which also helps me in my grief journey. We've actually met families who have experienced the same tragedy this way, and have connected them with support at the Foundation."
The Foundation's support has been extremely helpful to them as well, "Amanda Brindle [Family Services Coordinator] has been a huge support for us. In the beginning we were so lost and confused as to how or why this would happen to Gabriella. Her and Laura Gould [SUDC Foundation Co-founder (retired)] helped us navigate all of it. The zoom calls with them helped us tremendously, especially in those first weeks and months of confusion and grief." It was also helpful to have the Foundation's support when trying to understand the medical examiner's report, to be walked through the whole report and have any questions answered, Melissa says.
"Gabriella is deeply loved and loved to share her love with everyone around her. She had an old soul for such a young baby; a level of empathy and care for those around her that amazed us every day," Melissa says, "If you ever knew Gabriella or even just watched a video of her, you would see what a special child she was."
"Gabriella was our first daughter, our best friend, and now she's, our angel. We plan to continue educating people on SUDC, so that awareness can drive scientific and medical research so that someday, no parent suffers an unimaginable, and unexplained loss due to SUDC."
Melissa says she and Erick honor Gabriella's legacy by showing love and compassion to others, to spread the light and joy she brought to their lives every day of her life.
Donate now, and help us toward a future free of SUDC.