17 Nov

Spotlight on SUDC: Adeline's Story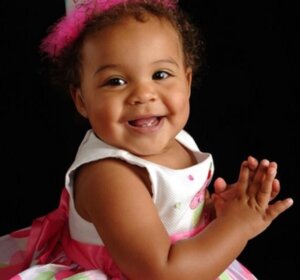 Adeline's story is lovingly told by her mother.
Adeline Margaret made her grand entrance into the world on Friday, August 12, 2011 at 10:54 p.m. in Pittsburgh, PA bringing so much love and joy with her. It was the best day of my life! I never could have imagined a love like this – unconditional and innocent. Adeline's chocolate eyes sparkled brighter than any others. Her sun-kissed brown hair with soft ringlets was one of her most endearing characteristics. Her soft skin was the most beautiful shade of caramel. And her three-toothed smile was so incredibly infectious. Anyone who came in contact with Adeline was undoubtedly instantly captured by her beauty, smile and inviting "HI!" Adeline loved to laugh, dance and smile. She knew her ABCs, her name and how to shake her booty. And did she ever know love! From the time she entered this world until she earned her angel wings, she was loved so much. She was her mommy's life, heart and soul. She brightened her mommy's morning being a little monkey jumping in the bed and sweetened her nights as her snuggling Lovebug. She kept her grandparents young, stole her aunts' and uncles' hearts, was adored by her cousins and loved playing with her furry best friend, Maddox.
On Thursday, October 18, 2012 our lives changed forever. After a fun morning and saying Aunt "BalBal" for the first time, Adeline went down for a nap at daycare and never awoke. Despite the doctor's and EMTs best efforts, she joined her grandpap in Heaven and became the most beautiful Guardian Angel.
To say that our world was shattered is an understatement. No words can express the void our family feels with the loss of Adeline. We will never stop our mission to help reach a world free from SUDC.  
Adeline's story is also featured on the SUDC Foundation's Memorial Instagram page, which shares individual stories of children lost to SUDC. If you have lost a child to sudden unexplained death and would like to share his or her story on our Instagram Memorial page, please email us at [email protected].