28 May

Stories Behind the Stride – How Different Paths Can Lead Us to the Same Goal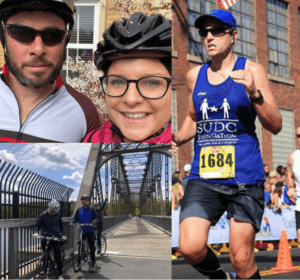 Each March, the SUDC community joins together for a month of activities to mark SUDC Awareness Month. To wrap up the month in 2021, the community accepted the Stride for SUDC Awareness Challenge – to walk, run, roll or ride 1,000 miles to raise awareness of SUDC and in honor of the over 1,000 families the SUDC Foundation supports worldwide.
It was an opportunity for all supporters – SUDC families, friends and professionals – all around the world to get active in advocacy for SUDC. As the leaderboard developed, we learned that each of our Challenge leaders had a different and special connection to the cause.
Travis Behm of Syracuse, New York, United States, logged 497 miles for the Stride for SUDC Awareness Challenge. Travis participated in memory of Scarlett, the daughter of his dear friends Ryan and Stephanie. Travis had never heard of SUDC before Scarlett's death and accepted the Challenge in the hopes that other families who suffer this tragedy learn help is available for them.
"Thinking about what my friends have gone through, it was nice to do something that brought awareness to an organization dedicated to helping families navigate one of the worst situations you could go through," Travis said.
The Stride Challenge was not the first time Travis has supported the SUDC Foundation through his love of running. In 2018, Travis ran the full marathon as part of Team SUDC in the Dick's Sporting Goods Pittsburgh Marathon. "It was so nice to be able to take part in something I enjoy and raise money for a great organization," Travis added on his participation.
Cha O'Leary of New York, New York, United States, logged 385 miles in memory of Maria, the sister of her roommate, Lily. Cha was inspired by Lily's devotion to SUDC advocacy to take part in the Challenge. "I have been an athlete for as long as I can remember. I loved having a challenge that was for a good cause," Cha said. "Seeing how the SUDC Foundation provides so much support, an abundance of resources, and allows families to connect in a meaningful way has been eye-opening."
Anna White and her partner Greg Pearce of Crewkerne, Somerset, United Kingdom, logged a combined 616 miles. Anna and Greg had also never heard of SUDC until the passing of Greg's niece, Emilia. After hearing about the Challenge on social media, Anna and Greg decided to use their love of being outdoors to raise awareness of SUDC.
"For a few years running has been my go-to for stress busting and mood boosting. It has the added bonus of keeping me fit! Greg is more keen on mountain biking and cycling in general," said Anna. "(The Stride for SUDC Awareness Challenge) gave us the motivation to get out in all weather and it felt great to raise awareness of the charity who supported Abi (Greg's sister) and Jamie after losing Emilia."
The Stride for SUDC Awareness Challenge was an incredible success. We began with a goal of reaching 1,000 miles and were blown away when our supporters shattered that goal more than four times over, surpassing 4,600 miles! But the real success lies in the coming together of people from around the world – each touched by SUDC in a different way – who are all an integral part of the journey to make strides for SUDC, and to one day see a world without it.
From the bottom of our hearts, we thank everyone who participated. To learn more about events where you can participate in support of the SUDC Foundation, please visit http://sudc.org/events/.