22 Oct

Virtual Attendance Options in Event Planning: The New Reality?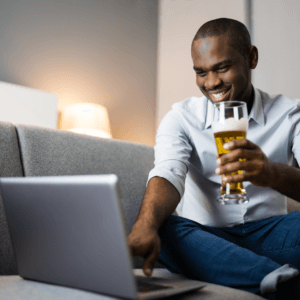 The last year and a half have left many people longing for social gatherings, to get the in-person sense of community and belonging, especially when supporting the charities and causes they care about.  And, while many attendees are comfortable returning to in-person fundraiser events, some may still prefer virtual options for participation. 
Those of us who plan fundraisers and other special events must acknowledge that the event planning landscape has changed. It would be a mistake to return to the standard event planning practices we have relied upon for so long. All of us have experienced firsthand that unique engagement opportunities for attendees and sponsors can successfully be created through virtual events, and they are no longer bound by geographic borders. The virtual events offered over the past year allowed supporters to engage from anywhere in the world, without leaving their homes or communities, which is especially beneficial for an international organization like the SUDC Foundation. In addition, sponsors were able to broaden their branding reach to hundreds more attendees, significantly increasing the impact of the sponsorship value.
Event planners are now challenged with figuring out how to capture the genuine enthusiasm of those who want to connect face-to-face with others while engaging those who prefer to attend virtually from the comfort of their living room or neighborhood. One great solution is a hybrid event – one that brings together the attributes of an in-person event with face-to-face interactions and an online component that incudes virtual engagement.  Hosting a hybrid event gives you a built-in contingency plan if the in-person event needs to adapt to an entirely virtual event quickly.
With so many advances in technology, event planners have a plethora of interactive software platforms to choose from to help host the virtual portion of their events.
And while the use of these platforms can ensure the virtual portion of your event is engaging at multiple touchpoints, you will want to be mindful that some of your audiences may be experiencing a bit of a "tech overload" with so much of their work and social lives happening online during the pandemic. Event planners who became accustomed to using technology during the pandemic should not risk incorporating too much of it into a hybrid event. The selection of event technology should be carefully considered with the shared purpose and attendees in mind.  
Live stream opportunities that create small, intimate spaces for virtual and in-person attendees to socialize during the event build relationships, while digital tools like virtual registration and online bidding for an auction can help drive attendance and automate manual processes. If you are planning a challenge event, like a race, virtual participants can engage by sharing stories about why they are participating on their social media channels or in pages created especially for the event.  They can be further engaged by participating in the awards presentation along with in-person attendees through a Facebook live stream.
Event planners who select the right balance of event technology and are thoughtful in considering both the in-person and virtual participants' needs can provide a meaningful and rich experience that meets and exceeds the expectations of all attendees in a seamless, cohesive way. Please remember your event does not have to be perfect; focus on making it fun and memorable, and leave attendees feeling good about the positive impact their participation made to the mission they are supporting.
If you are thinking of hosting a hybrid event to support the SUDC Foundation, please contact our Director of Development.  We have many resources to help ensure your success and our staff is here to assist you every step of the way.