07 Jul

Turning Trials into Triumph
Albert Einstein once said, "In the middle of difficulty lies opportunity."
The global pandemic due to the novel coronavirus has certainly created many challenges all over the world and throughout the SUDC community. One such challenge has been the need for many fundraising events that benefit the SUDC Foundation to go virtual.
Fundraising events hosted by SUDC Foundation Ambassadors are critical to supporting the work of the SUDC Foundation. In fact, approximately 85 percent of the Foundation's revenue comes from fundraising events.
As worldwide events have unfolded, many of our Ambassadors have expressed disappointment at the thought of adjusting their plans to honor an SUDC child's memory the way they had planned. But, as we have learned through working with over 1,000 families all over the world, our community is incredibly resilient. And it has focused on turning disappointment into opportunity for global events bigger than we could have imagined!
Maggie Beresheski-Vincent hosts a yearly festival, Smiles for Owen, in her community outside of Niagara Falls, NY. It is held in memory of her son, Owen, who passed away when he was 15 months old. This year, Smiles for Owen is going virtual.
"The COVID-19 pandemic has brought about many challenges and changes for everyone throughout the past few months," Maggie said of planning this year's event. "Here in western New York, we have been faced with many uncertainties and adaptive guidelines that have interfered with our original plans to host the 3rd Annual Smiles for Owen event. We brainstormed ideas, weighing our options and strict regulations for hosting a physical event, but most disheartening was the option to cancel the event all-together. We then discovered that many events were being held virtually. Smiles for Owen will become sMiles for Owen for our first ever virtual 5K run/walk/cycle event this year. Participating individuals will raise money for the SUDC Foundation by completing a 5K in the location and time frame they choose. Even my sister's family, who recently relocated to Hawaii, will be participating in this year's event! Even through uncertain times, we continue to remember Owen and every other child gone too soon."
Virtual fundraising events are not only a great alternative to in-person events, they are a great option all the time. They offer the opportunity for people from all over the world to participate while helping the host to raise money for a cause they care about. SUDC Foundation supporters have also learned that planning a virtual event can be cost-effective and easy.
Wes' Run for a Reason went virtual this year as well. This was the second year Alex and Meghan Frey, Wes' parents, have hosted the event in Wes' memory after he passed away in 2018 when he was 17 months old. The race is usually held in Orinda, California, but this year the Frey family opened up the opportunity for supporters to participate from wherever they were.
"Making our event virtual allowed for people from all over the country and world to participate in remembering and honoring Wes," Meghan said. "We were surprised by how easy it was to switch to a virtual event and were excited to see how and where people participated. We hope that opening the event to a wider audience also increased the awareness around SUDC and the Foundation more than we could with a local event."
Virtual events have also given SUDC Ambassadors the chance to spread awareness of Sudden Unexplained Death in Childhood and encourage participation in creative ways. Henry Chiaramonte's family turned the annual 5K held in his memory into an occasion to celebrate Henry Day at Home. Henry passed away when he was 21 months old. Henry's parents asked supporters to run a 5K, walk a mile, take a stroll with their dog, bake a cake or take the time to do some good deeds for the people in their lives. They also asked participants to complement their activity by making a donation to the SUDC Foundation in Henry's memory.
"We are so grateful for the response we got spreading Henry's legacy of friendship and happiness at our Henry Day at Home event," Henry's mom, Colleen, said. "I think my favorite part of the day was when my younger son woke up shouting 'It's Henry Day!' We were sad to cancel our 5K but knew we wanted to still celebrate Henry. We loved seeing all of the special ways people chose to celebrate our sweet Henry. Matt's rugby team came together and chose to run by Henry's Park and our house. It was really thoughtful of them. Life without Henry is an uphill battle each day but knowing he is not forgotten truly means more than I can say. I hope when people think of Henry they remember all of the joy and happiness he brought into this world and continues to."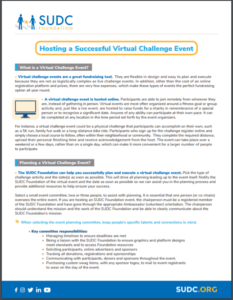 The SUDC Foundation is so grateful to all of its supporters during these uncertain times. We are enjoying working together and learning all of the new, creative ways our virtual event hosts are raising awareness of SUDC and honoring their loved ones. To help, we have created a "virtual event planning guide" full of useful information and tips for planning and executing a great event! You can find it here. We are also here to assist you in any way you need!
And if you would like to join one of our virtual events, please check them out at http://sudc.org/calendar. If you would like to host a virtual fundraising event, please contact me at [email protected].